TURCHIA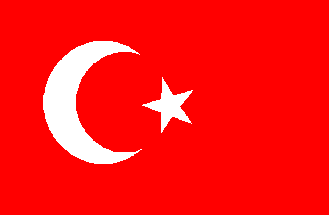 Adopted in 1921
Music changed in 1932
Words by MEHMET AKIF ERSOY (1873-1936)
Korkma, sönmez bu êafaklarda yüzen al sancak

Sönmeden yurdumun üstünde tüten en son ocak.
O benim milletimin. Yildizidir parlayacak.
O benimdir, o benim milletimindir ancak.
Çatma, kurban olayim cehreni ey nazli hilâl!
Kahraman irkima bir gül ne bu siddet, bu celâl
Sana olmaz dökülen kanlarimiz sonra helâl
Hakkidir hakka tapan milletimin istiklâl!
TRANSLATION
Fear not and be not dismayed, this crimson flag will never fade.
It is the last hearth that is burning for my nation,
And we know for sure that it will never fail.
It is my nation's star, shining forever,
It is my nation's star and it is mine.
Frown not, fair crescent, for I am ready to die for you.
Smile now upon my heroic nation, leave this anger,
Lest the blood shed for thee be unblessed.
Freedom is my nation's right,
Freedom for us who worship God and seek what is right.