COREA DEL SUD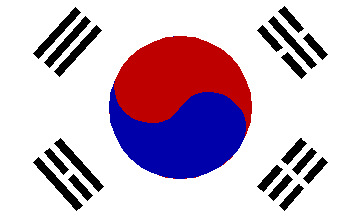 Adopted in 1948
Words by YUN CH'I-IO (1865-1946)
and AN CH'ANG-HO (1878-1938)
Tonghai moolkwa paiktusani
Marugo taltorok
Hanamini pohohasa
Uri nara mansei.
CHORUS
Moogungwha samchulri
Hwaryu kangsan,
Taehan saram taehan euro
Kiri pochunhasae.
Namsan uye chusonamu
Chulkapeul turultut
Paramisul pulbyunhamum
Uri kisang ilsae.
CHORUS
TRANSLATION
Tong-Hai Sea and Pakdoo Mountain, so long as they endure,
May God bless Korea our land for endless ages to come!
CHORUS
North to south bedecked with flowers, land of beauty rare,
May God keep our country united and preserve our land.
Eternally Naamsaan's pine-trees stand like an armour sure,
Trough whatever tempest or danger, as our symbol of strength.
CHORUS