PAKISTAN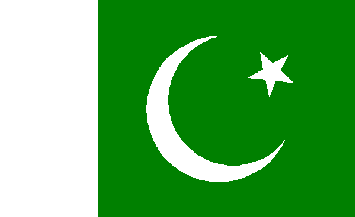 Adopted in 1953/1954
Words by ABU-AL-ASAR HAFEEZ JULLANDHURI (1900-1982)
Pak sarzamin shad bad

Kishware haseen shad bad
Tunishane azmealishan arze Pakistan
Markazeyaqin shadbad.

Pak sarzamin ka nizam quwate akhuwati awam
Qaum, mulk, Sultanat
Painda ta binda bad shad, bad man zele murad.

Parchame sitarao hilal
Rahbare tarraqio ka mal
Tarjumane mazishane hal jane istaqbal
Sayyai, khudae zul jalal.
TRANSLATION
Blessed be the sacred land,
Happy be the bounteous realm,
Symbol of high resolve,
Land of Pakistan.
Blessed be thou citadel of faith.

The Order of this Sacred Land
Is the might of the brotherhood of the people.
May the nation, the country, and the State
Shine in glory everlasting.
Blessed be the goal of our ambition.

This flag of the Crescent and the Star
Leads the way to progress and perfection,
Interpreter of our past, glory of our present,
Inspiration of our future,
Symbol of Almighty's protection.