COREA DEL NORD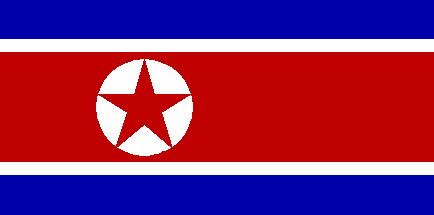 Adopted in 1947
Words by PAK SE YONG (1902-1989)
A ch'im ôn pinnara i kangsan
¥ngum e, chawÚn do kadôk han
Samch'olli, arômdaun nae choguk,
PanmannyÚn oraen ryÚksa e.
Ch'allan han munhwa ro charanan
Sôlgiroun inmin ôi i yÚnggwang:
Momgwa mam ta pach'yÚ, i, chosÚn
Kiri pattôse. Ch'alse.
Paektusan Kisang ôl ta anko.
Kôllo ôi chÚngsin ôn kittôrÚ.
Chilli ro mungch 'yÚ jin Úksen ttôt
On segye apsÚ nagari.
Sonnôn him nodo do naemirÚ,
Inmin ôi ttôs ôro sÚn nara.
Han Úpsi pugang hanôn
I chosÚn kiri pinnaese.
TRANSLATION
Let morning shine on the silver and gold of this land,
Three thousand leagues packed with natural wealth.
My beautiful fatherland.
The glory of a wise people
Brought up in a culture brilliant
With a history five millennia long.
Let us devote our bodies and minds
To supporting this Korea for ever.
The firm will, bonded with truth,
Nest for the spirit of labour,
Embracing the atmosphere of Mount Paektu,
Will go forth to all the world.
The country established by the will of the people,
Breasting the raging waves with soaring strength.
Let us glorify for ever this Korea,
Limitlessly rich and strong.