MYANMAR (BIRMANIA)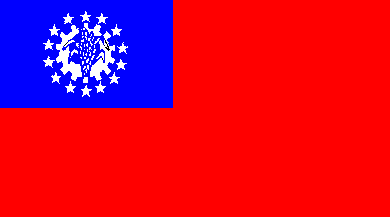 Adopted in 1948
Words by SAYA TIN (1914-1947)
Gba majay Bma pyay
Dobo bwa myay si mo chi myano bey.
Byay daungtsu go ath้ bay loo do ka kwe mlay.
Da do byay da do myay way myay.
Do byay do myay adjogo nyinya zwa do dudway.
Taung saung ba tso lay do dawon bay apo dan myay.
TRANSLATION
We shall always love Burma,
Land of our forefathers.
We fight and give our lives
For our union.
For her we responsibly shoulder the task,
Standing as one in duty to our precious land.