AZERBAIGIAN! AZERBAIGIAN!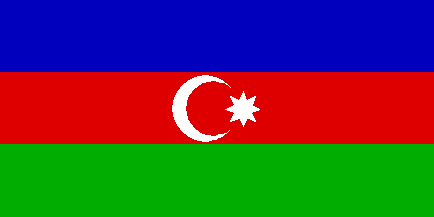 Adopted in 1992
Words by AHMEDJAVAD (1892-1937)
Azerbaijan! Azerbaijan!
A gahraman övladen shanle vatan.
Sandan ötr jan vermae Jomle hazeriz.
Sandan ötr gan tökmae Jomle hazeriz!
Oochrangle bayraginle massaud yasha!
Oochrangle bayraginle masuad yasha!
Meanlerle jan goorban olde!
Senan harba maydon olde!
Hogogindan kechan asgar
Hara beer gahraman olde!
San olasan goolostan,
Sana har on jan goorban!
Sana mean beer manhabat senamde totmosh makan!
Namosoono hifz etmae,
Bayragine oksaltmae.
Jomle gangler moshtagder!
Shanle Vaten! Shanle Vaten!
Azerbaijan! Azerbaijan!
Azerbaijan! Azerbaijan!
TRANSLATION
Azerbaijan! Azerbaijan!
O Great Land, your children are heroes.
We are ready to be martyred for you.
We are ready to shed blood for you.
Three-coloured flag, flourish honourably!
Thousands of lives have been sacrificed.
Your bosom has become a battlefield.
Every devoted soldier
Has become a hero.
You are prospering.
My life is always dedicated to you.
My love for you is embedded in my heart
A thousand and one times.
To preserve everything
And to honour her flag
All the youth are willing.
Great Land! Great Land!
Azerbaijan! Azerbaijan!